PC  Workshop has encountered many issues with iMacs and MacBooks etc but have yet to come across one which cant be rectified, as with experience comes a deeper knowledge of what can go wrong and the means to repair it.
Mac Software Problems
With the iMac and  MacBook a really common fault that we repair quite often is the software becoming corrupted. This can happen for a variety reasons such as software not properly being installed, key files being accidentally deleted or overwritten or lately an update can corrupt the software.
The common symptoms for this fault include things such as: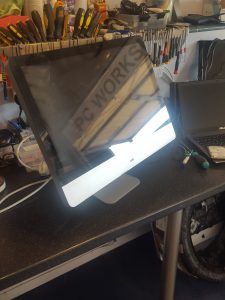 System being slow
Flashing Document folder on start up screen
Programme's being non-responsive
Spinning wheel timer
No boot up
Error messages coming up
These are just a sample of the Mac repairs that the technicians are able to carry out. Whatever hardware or software problems you have with your  iMac the repair team will try their best to help.
We can resolve these issues by using original software to recover lost files, repair damaged directories or in extreme circumstances we can provide a full system restore.
PC Workshop Warrington
01925 713359 or 07729 917926
2 Minutes from J8 M62 near M&S IKEA etc.