PC Workshop are starting to see more and more Samsung laptops in for power jack repair. They use similar looking jacks to the Sony laptops but are soldered directly on the motherboard instead of attached by a cable.

Just like the Sony notebooks the jacks are usually physically broken and the center no  longer visible.
They are a fragile piece of kit considering the amount of stress they're placed under with the constant in and out of the power lead.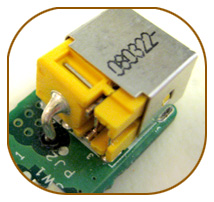 The Samsung R580 needs to be completely taken apart to the motherboard to access the dc jack as is soldered directly on to the motherboard, hence the expertise and tools to de-solder and solder correctly, to prevent further damage.
Once the jack is replaced and the laptop rebuilt we can check that the result is good and the laptop powers on.
Contact PC Workshop for all your Laptop Problems
We're 2 minutes from J8 M62 nr. M&S,IKEA etc.