Our data recovery processes has managed to reunite a lady whose computer had died, taking with it all her family photos from when their children were growing up and family holidays. It later came to light that she also ran a small business with all corresponding paper work, invoices etc. this started out to be a difficult recovery as the hard drive itself was corrupt and windows didn't want to work with it.  After utilising some repair software we have, the outlook is now promising but the proof is in the end result. Thankfully we wont need to call on St. Jude (patron saint of hopeless cases) on this one as we can tell after a few hours just how successful we will be. The lady was very fortunate in that we recovered all she wanted and swore she'd back up her data etc. in future.
If you are suffering from data loss, or your computer / Laptop isn't running right or unexpectedly shutting down and you can't access your data, here are a few steps to follow to ensure the highest chance of a successful recovery.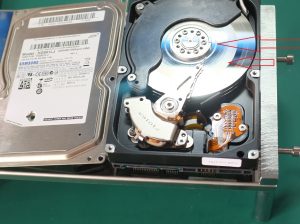 .
Turn off your computer as continued operation can cause greater damage
Do not restart the computer:- when a hard drive is in a distressed state, any extra actions can cause more damage to your data.
Do not install or re-install any software or hardware.
Do not shake, disassemble, or attempt to clean a damaged drive.
Do not use a file recovery or other data recovery software to repair a damaged drive.
Do not try to clean or dry a wet drive
Do not try to operate a visibly damaged device.
We can usually recover valuable business data or irreplaceable personal files, lost documents, spread sheets, presentations, database files, graphics, photos, music files or virtually any other type of file we put our specialist knowledge and cutting-edge technology to work on, and if we can't then we know someone who can.
Give PC Workshop a Ring on 01925 713359 OR 07729 917926 and get piece of mind fast!
We're 2 Minutes From Junction 8 M62 Near IKEA. M&S Etc.